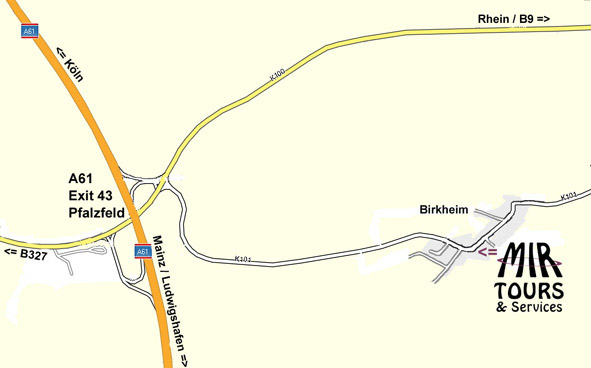 The Mir Tours Office can be found in the former village inn in Birkheim.
Again here the Autobahn A 61 (Köln-Ludwigshafen), only 2 km away is a good reference point. Regardles whether you use the motorway (exit no 43 / Pfalzfeld), the Hunsrückhöhenstraße (B327) or from the Rhine Valley (B9): Make your way to the eastern motorway entrance, on the opposite side you find the road leading to Birkheiim.
In the village you find the former village inn (Birkheimer Hof) lies on the right side after a large curve. There are several parking places in front of the house. Please understand that neither the office, nor the village offer overnight options for camping vehiclles.
Hauptstr. 10 in 56291 Birkheim
N 50°06'59'' E 7°37'17''
N 50°06.984' E 7 37.289'
N 50.11640° E 7.62148°
If you are using a satnav, be careful about using the postcode: there are 17 villages with the same code and they all have a "main street" which translates into Hauptstraße.
Our informative meetings, pre-tour participants meetinga and reunions take place here.
The BurgStadt CampingPark is in Kastellaun next to the hotel with the same name.
The hotel/camping is next to a greek restaurant with a beer garden. The campsite is terraced and park-like. All pitches are hard-standing and have their individual socket. There are many opportunities to spend your leisure time with shops, cafes and restaurant and sights to see.
We suggest you use the A 61 motorway and exit at Pfalzfeld No. 43, even when travelling from the south.
BurgStadt Hotel
Südstraße 34
56288 Kastellaun
GPS:
N 50°04'07" E 7°27'11"
N 50.068485 E 7.453017